So here it is January 2021 and we have something pretty darned exciting to share with you.
---
OpticianWorks began in 2008 with an end goal of providing a method for people to physically assess the skill set of an optician. Over the last 13 years we managed to do some amazing things, really amazing things. But we still had a gap in the practical component. We kicked around many ideas, virtual meetings, conferences, week long live classroom experiences, creating an army of Laramy-K OpticianWorks mentors… And although those are still great ideas and still possible in the future we now have the Laramy-K OpticianWorks Optician Qualification Standard.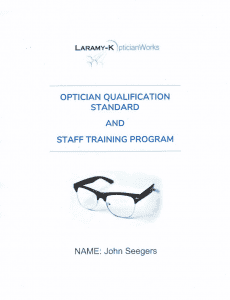 What is a qualification standard?
A Qualification Standard is training tool used by the US military. A qualification standard exists for every position from custodian to nuclear operations. It is designed to act as a practical "show me" display of understanding, as proof of competency and to act as a motivational tool.
A Qualification Standard shifts the responsibility for learning and completion to the learner releasing the burden often placed on supervisors, managers and other staff.
---
---
The creation of the Optician Qualification Standard took well over a year.
Cataloging every task a competent optician needs to master to be a valuable asset to a business and the public.
That's it!
We created a checklist of every skill that a great optician should have.
We created a way for the opticianry student to learn those skills.
We created a tool to help that student prove mastery.
The Optician Qualification Standard is deliberately not a fancy app or some lame computer based training or "virtual."
It is, as the saying goes, "pretty old school."
It is an old fashioned, hard-copy, checklist.
Tasks are checked off and learning proceeds as proof of competency is displayed.
It is about hands-on, physical proof of mastery.
The Optician Qualification Standard is designed to be used in conjunction with the Laramy-K OpticianWorks optician training program. Each qualifier is referenced to material covered on the website and/or in the YouTube video series. At just $99/year it is a small price to pay for the best optician training available.
---
---
              It's Free!            It's Free!          It's Free!
The Laramy-K OpticianWorks Optician Qualification Standard is available here free for download.
Please note that it is 62 pages and printing on three-hole punched paper is highly recommended.
Click here to download the PDF: Laramy-K OpticianWorks Optician Qualification Standard v1.0.2020
---
We would love your feedback.
The OQS is currently in its first version.
It was sent out for review to about 20 people at all levels of the industry and we made some additions and adjustments based on that feedback.
The more hands we can get the Optician Qualification Standard into, the more feedback we can get the better it will become.
So PLEASE share, share, share.
Exactly like it works for the US military the Optician Qualification Standard will work for opticians. Any individual completing the Optician Qualification Standard will by the act of completing it be a competent optician capable of performing all the necessary roles of a great optician. No more relying on word of mouth, a license, a certificate or school, an individual that has completed the Optician Qualification Standard has proven, p-r-o-v-e-n they can perform the tasks necessary to be a valuable asset to a business.
(SEO Crap) The Optician Qualification Standard is designed to be the most comprehensive optician training aid available. When an optician student or new hire optical employee works through the OpticianWorks optician training program and completes the optician qualification standard they will have proven competency in all areas of optician skills. Upon completion of the Optician Qualification Standard the individual will receive a certificate making the Laramy-K OpticianWorks Optician Qualification Standard an optician certification program. (SEO Crap)
The binder will be a part of your life for the next twelve to eighteen months. I would strongly encourage you to see the OQS book that you assemble as a training log, diary, journal, file cabinet and companion. Print the OQS onto 3-hole punched paper and place it in a 1.5″ binder along with a business card holder, some page protection sheets and perhaps a few file folder sleeves too. You will be asked to collect some ancillary materials as you work your way through.
[insert long version video here]
Managers, supervisors, trainers — We are currently working on a train-the-trainer video series, expect them late spring of 2021.
In the meantime a few things to know:
It will be your job to get the trainee started. It will be the trainee's job to run with the ball once you have provided instructions and handed it off.
You will act as the qualifier wherever appropriate. No one on this Earth is competent enough in every area of opticianry to act as the qualifier for every qualification. Not to mention it wouldn't be much fun for either of you.
You are the gatekeeper. You are the steward of the profession. You must set the bar quite high or in the end you will be the one to suffer. Close is not good enough. Tears are not a sign of competency. Anger is not to be rewarded with a signature. If the competency is not displayed correctly the individual must practice more.
---
Side Bar: Look Keith, the K in Laramy-K is qualified to operate the nuclear power plant aboard a Navy aircraft carrier. OK no kidding. 100% serious – he achieved that qualification by working through the qualification standards for the job, period. No if-buts, no grey areas that is how powerful a qualification standard can be. And no if an optician screws up it won't kill a thousand people but hopefully you get the idea.
---
If you feel you are experienced enough to act as a qualifier and would like to PLEASE let us know.
Just drop us an email with your name, experience and contact information and we will let anyone in your area looking for one know.
---
And last but as far from least as you can get — We want to see and hear those success stories! Let's see those completed standards. Let's hear about what your experience was like working through it. Let's get you a nice certificate for completion.