Complete In-Office Finishing Lab Training Course – FREE
Give yourself the edge competing with online retail.
-or-
Grow your skills as an optician by learning the art of eyeglass finishing, edging, or glazing.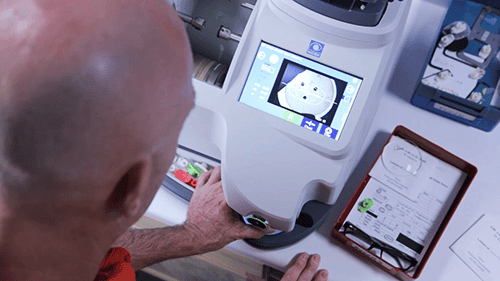 Through the Laramy-K OpticianWorks In-Office Finishing Course, learn how to:
Improve your customer experience through better quality control and quicker turnaround.
Reduce lab costs and make more efficient use of your time.
Set yourself apart with the ability to offer custom designs and emergency work, an experience your customers will not forget.
Build-out and operate an in-office finishing lab.
frThe Laramy-K OpticianWorks finishing lab course is designed to help you achieve all this and more.
Course Contents:
Is Finishing Right For You?
Finishing 101

Getting Started
In-House Finished Stock Lens Inventories
Finishing Equipment
Edgers
Blockers
Tracers & Tracing
A Brief History of Edgers
How To Finish / Edge Lenses
Finishing First Steps
Surfaced Lenses: MBS, Cut-Out, Size, Shape
Let's Talk About Base Curves
Edging Single Vision
Edging Lined Multifocals
Edging Progressives
Finishing Final Exam
Why are we offering this course for free?
We believe very strongly moving toward service and customer experience—that an in-office finishing lab helps provide—is an important piece in the battle against online eyewear sales and we want to help you win.
In our experience, opticals that do their own finishing tend to be the ones that really care about the craft. They also happen the ones that we, as an optical lab, enjoy working with the most.
We want to work with you. Laramy-K has partnered with IOT to produce technically superior freeform lens designs as a independent alternative to Big Optical labs. We want to help you find success by making the best eyeglasses on the planet. The best way Laramy-K Optical can do that (as an uncut lab) is to help you edge in-house and do it well.
Learn To Run Your Own Finishing Lab Today